Medial joint space narrowing is a common term many of you will see in your x-ray and MRI reports.   Medial joint space narrowing is a long winded way of saying you have arthritis on the inner side of your knee.
Knee pain due to arthritis can be disabling.   Many weekend warriors develop knee pain. Sometimes that pain will follow an injury, and sometimes it simply crept up on you.  Often you will find that your knee is swollen too.   When the pain first occurs it tends to very painful. After a few weeks the pain tends to subside or improve on its own.
In patients who rush to the doctors office, it is not uncommon for your doctor to order an MRI.  For many of us, once we hit middle age it is very common to have a degenerative meniscus tear in the setting of medial joint space narrowing or osteoarthritis.
We have had many blogs posts here about meniscus tears: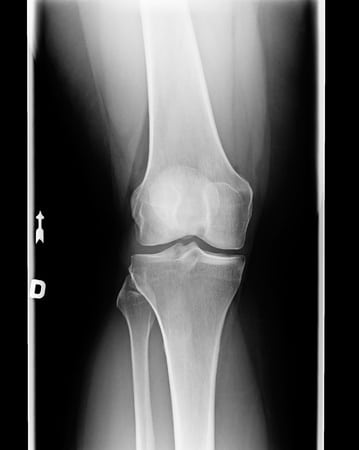 What is Medial Joint Space Narrowing?
It is very common for meniscus tears to occur in arthritic knees.  Our parts wear out, and arthritis and mensicus tears can be the result.  Arthritis means that you have lost cartilage off the end of the bone.   Therefore if you have less cartilage, you have less cushioning which will lead to pain, swelling and weakness.
In the upper X-ray on the right notice the thigh bone above, and the shin bone or tibia below. Between the two bones is the joint space.  Note how both sides are equal.
As arthritis progresses, you will lose cartilage in the knee.  It is very common to lose cartilage on the inner or medial side of the knee first. When the arthritis progresses to a certain point we will start to see the changes on your X-ray or MRI.   On the second X-ray on the right you can see that the space between the bones is less than in the normal X-ray above.  That represents medial joint space loss and moderately severe osteoarthritis.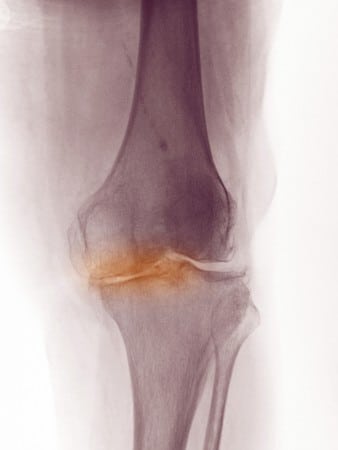 When you suffer from arthritis and meniscus tears the best strategy is to try and avoid surgery.   Arthritic knees are cranky and do not like surgery. Even "minimally invasive" surgery such as an arthroscopy.  I have seen many patients over my 20 years do very well without needing surgery for their degenerative mensicus tears when they also had medial joint space loss.  I've also seen many patients who are worse than before surgery.    Once the arthritis reaches a certain severity it will have a significant influence on the results of arthroscopic surgery for meniscus tears.
Most people with medial joint space loss and meniscal tears will do very well with:
Physical therapy
Occasional injections
Weight loss
Lower your sugar intake (very inflammatory)
Time.
Of course your arthritis will worsen slowly over time.  In time you might need to think about having a knee replacement.  But that might not be a decision you need to think about for years.
Disclaimer:  this information is for your education and should not be considered medical advice regarding diagnosis or treatment recommendations. Some links on this page may be affiliate links. Read the full disclaimer.