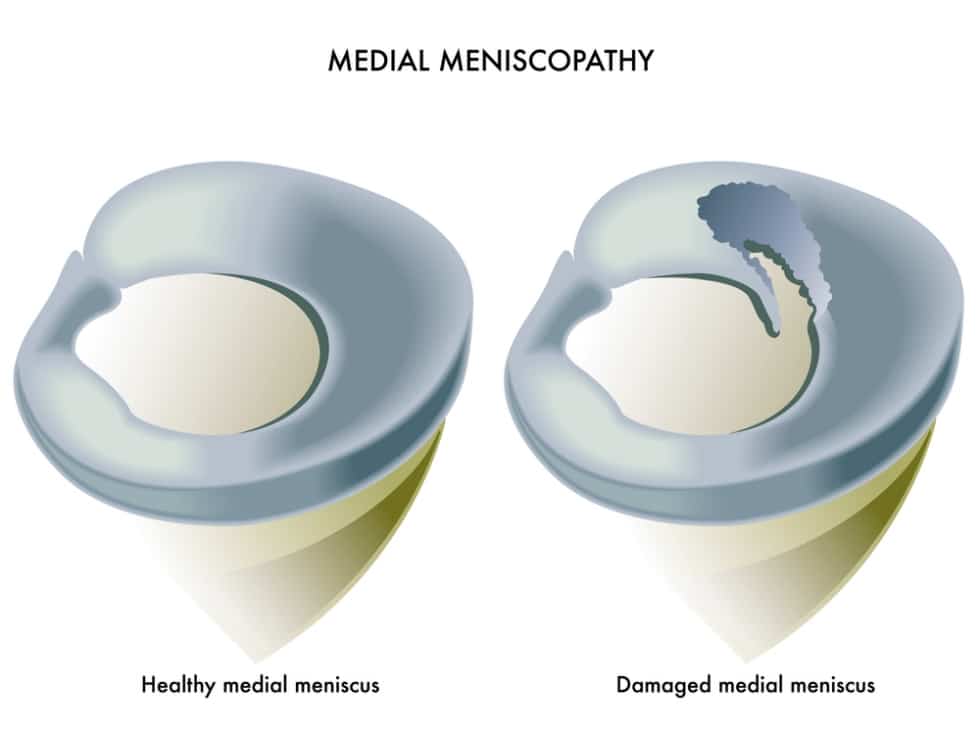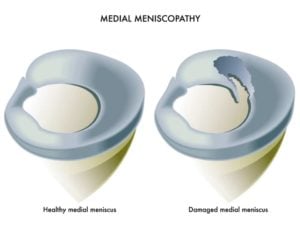 Derrick Rose is out again.  This time he has torn a meniscus in his knee.   The meniscus is the primary shock absorber in our knee.  The meniscus plays a critical role in maintaining the well being of our knees. We actually have two menisci within each knee.  A medial, or inner meniscus;  and a lateral or outer meniscus.  The most common area for a meniscus tear to occur is in the inner, back side of the knee — or the posterior horn of the medial meniscus.
What is the cause of a meniscus tear?
Once again our sports medicine experts from around the country are assisting in educating you about one of the most common causes of knee pain — a meniscus tear.   This post we will focus on the cause of meniscus tears.  In later posts, we will discuss if treatment is needed for all tears and what those treatment options are.
Meniscus tears can be acute, or due to an injury — or a meniscus tear can be degenerative, where your cartilage is simply wearing out from a lifetime of activity.  The cause of the tear matters, because that helps us determine what treatments to offer you.
Let's read what our experts have to say.
Dr David Geier: Twitter: @DrDavidGeier  ; Website
Most common cause of meniscus tears.
• acute
• degenerative

I see acute meniscus tears in teenagers and young adult athletic individuals who have some sort of twisting injury. Soccer, tennis, golf, twisting the knee in an exercise program and those types of activities.
I see degenerative tears in active people with early wear-and-tear of their knees that developed specific onset of very localized pain in a specific spot in their knees. Often the new pain develops after a seemingly insignificant event or no injury at all.
Dr Derek Ochiai: Twitter: @DrDerekOchiai ; Website
The most common causes acute of meniscal tears:  Meniscal tears are commonly from acute twisting injuries, where the knee buckles and gives out.  Because the buckling event can sometimes be associated with a major knee ligament injury, many times patients with an anterior cruciate ligament (ACL) or posterior cruciate ligament (PCL) injury can also have meniscal tears.  The meniscus helps the knee "stay in place", and acts as a secondary restraint to abnormal knee motion.

Most common causes of degenerative meniscal tears:  Arthritis is a condition where the knee articular (gliding) cartilage starts to degenerate.  As this cartilage degenerates, more stress and pressure is put on the meniscus.  At the same time, the meniscal cartilage is also starting to get less stretchy and more susceptible to cracks and tears.  This combination leads to degenerative meniscal tears.
Dr Jeff Berg:  Twitter: @DrJeffBerg ; Website 
Meniscal tears tend to occur from two primary causes.  One is an acute traumatic injury and the other is due to a degenerative process, the accumulation of damage and wear, slowly over time.  As a result, tears that occur following a distinct noticeable traumatic event typically occur in younger people, whereas degenerative tears tend to occur in older people. In reality, many acute tears likely occur from some combination of both of these factors: Menisci with lesser degrees of degeneration (not enough to cause a tear by itself) undergo lesser trauma (also not enough to cause a tear by itself) resulting in a mixed type of tear.
Dr Scott Slattery: Twitter: @sportscaduceus  ; Website: 
The meniscus is a C shaped piece of cartilage in the knee between the two bones that make up your knee joint. Although it has many functions, it can be thought of as a shock absorber and cushion along the edge of the joint. Injury to the meniscus and loss of meniscal tissue with subsequent loss of normal function, can predispose patients to early degenerative arthritis. Meniscus tears are fairly easily diagnosed with a history and physical exam by an experienced examiner, but MRI is commonly used to confirm the diagnosis. The most common cause of meniscus tears is age related degeneration. As we age, the connections between the collagen fibers that make up the meniscus begin to deteriorate, causing failure of the structure and tears due to stresses in the joint. Often these tears can occur with minimal load and trauma. Of course, a weakened meniscus can tear more easily when significant trauma occurs. Acute tears can occur even in young patients with a normal meniscus if the load is significant. Usually this occurs during sports that involve pivoting and twisting.
Meniscus tears are very common.  The older we get the more likely that your tear will be degenerative in nature.  The younger you are, the more likely that your tear is acute or due to an injury.  As we will explore in our next series of posts, the cause of your meniscus tear will have a significant impact on the treatment we recommend.
Stay tuned …