The meniscus is a cartilage disc within the knee.  It acts as a cushion.  Meniscus tears are common.  Meniscus tears can occur due to degeneration or injury.   The meniscus is one of the more commonly injured structures within the knee.  As we have previously discussed, there are different types of meniscus tears.  Not all meniscus tears are bothersome, nor is meniscus tear surgery always the answer if you have a meniscus tear.
Do I need meniscus tear surgery?
Because meniscus tears come in many shapes and sizes, some tears will bother us and require meniscus tear surgery and some may not bother us and thus not require surgery.  People also come in various shapes and sizes… and many of us have varying goals, objectives and expectations.  That means that a meniscus tear that bothers one person, may not bother another person.  One person might tolerate the discomfort they possess because of their meniscus tear, while someone else will not.  One patient may chose to have surgery to address their meniscus tear and pain, and another patient may chose to avoid surgery for their meniscus tear and deal with the discomfort.    In general, the answer to the question —Do all meniscal tears require surgery? —  is no… meniscus tear surgery is not your only option.
Many patients do very well with a compression sleeve , time and physical therapy.
For those of you who may require surgery, you are concerned about whether or not the tear is repaired or removed. This is very important.  Any meniscus tear which can be sutured, should be.  Unfortunately, only a few meniscal tears have healing abilities, so we are limited in terms of the number of tears we can actually suture.
There are many considerations when determining if meniscus tear surgery is required.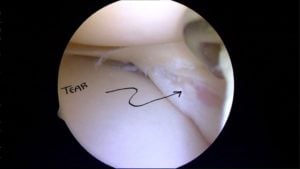 We as physicians need to treat patients … and NOT treat MRI findings.   That means that we need to communicate!  I need to hear from you how your meniscus tear is affecting your lifestyle and your quality of life.  I need to examine you and listen to you to be sure that the meniscus tear is actually what's bothering you.   Only after a meaningful interaction can I make a recommendation, educate you and enable you to make an informed decision with regards to whether or not you feel that surgery is necessary!
Bottom line… Meniscus tear surgery is not the answer for everyone.  Talk to your doctor, learn all that you can and have an informed decision-making session to determine the proper treatment plan that suits your needs … and your knee! 
You may find this blog post on "meniscus tear surgery and if it is necessary" to be useful.  There are over 200 comments from people around the globe.
Dr. Howard Luks, MD – Fishkill, NY
,

200 Westage Business Center, Suite 115

,

Fishkill

,

NY

12524

,

United States (US)
-
Phone:

(845) 896-4178
Fax:

(914) 789-2743
Email: contact@howardluksmd.com