 Rotator cuff tears are very common and are a common source of shoulder pain.  The chance of you having a rotator cuff tear increases with age because the rotator cuff can simply wear out over time.  Many rotator cuff tears, especially "degenerative" tears often do not require surgery.  Therefore, one of the most common questions you will have when you are considering treatment options is whether or not your rotator cuff tear can become larger over time?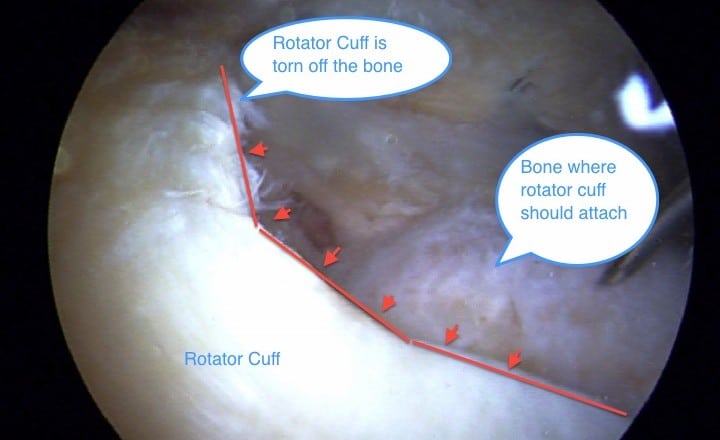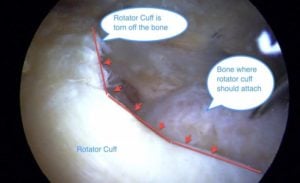 The most common cause of rotator cuff tears is degeneration or a process we call tendinopathy.  Think of your favorite pair of blue jeans.  That hole around the knee wasn't there years ago… now it gets larger every time you wear them.
Because degeneration is the most common cause of tearing, then it naturally follows that as the degeneration progresses your rotator cuff tear may become larger over time.
A recent study in one of our major journals studied this and found that rotator cuff tears will generally become larger over time.  They also may become more symptomatic, or painful over time. Studies to determine if surgery will prevent the rotator cuff tear from recurring (due to persistent degeneration) have not been adequately performed. That means that even if we operate to repair the rotator cuff tear, the tear might occur once again because surgery doesn't halt the degenerative process.
Relax. Rotator cuff tears do not become larger overnight. It can take many years for a rotator cuff tear to become larger.  As we have discussed elsewhere in this blog, physical therapy can be very effective at alleviating the pain due to small rotator cuff tears.  Physical therapy has also been shown to be as equally effective as surgery at treating the pain due to small rotator cuff tears. So if you have a small degenerative rotator cuff tear then it is possible to adopt a wait and see attitude about having surgery to repair the tear.  But keep in mind… the larger the tear becomes, the more difficult it might be to fix, and the worse the prognosis may be with surgery. That means that if you chose not to have your rotator cuff tear repaired, you should follow up with your orthopedic surgeon every 6 months or so to be sure that your rotator cuff tear is not becoming larger.