Can exercising snacking help people become healthier without feeling like exercise is work? Does the word "exercise" already make you feel exhausted? Is your day so "busy" that you have a hard time finding 30-45 minutes for exercise? What if short exercise "snacks" didn't involve sweaty work, and took about 2 minutes to perform— would that be easier to commit to?
Evolutionarily speaking "exercise" is a very new concept to humans. We've only been told to exercise for a few decades. Why is that? Post-industrial societies move far less than hunter-gather tribes around the globe. When studies, those groups, men and women routinely walk 10,000+ steps per day. Strikingly, their ability to walk that much, despite hilly technically challenging terrain doesn't change much into their 7th decade of life. The average American walks 4500-5000 steps per day. Our bodies evolved to move. To work in fields, to hunt and gather food.
Chronic diseases such as heart disease, fatty liver, dementia, and type 2 diabetes have emerged as the leading causes of our demise. Since those same hunter-gatherer tribes do not suffer from the same diseases, it is revealing just how significant the impact of a sedentary lifestyle can be on those of us living in a post-industrial society.
Most people view exercise as work
I've said this many times before – people do not like to exercise. Hunter gathers do NOT "exercise". Purposeful movement or work without the pursuit of food seems strange to them. Exercise to many people sounds like work. It sounds sweaty and painful. Although we have had a lot of success with our 30-day challenge, many people still find it hard to commit to moving more. Still, most folks are turned off by the thoughts of any and all exercise.
Enter the concept exercise snacking… basically asking us to just move, move often, occasionally with ferocious intent. Movement throughout the day offers us significant benefits in holding back chronic diseases such as type 2 diabetes, stroke, heart disease, etc.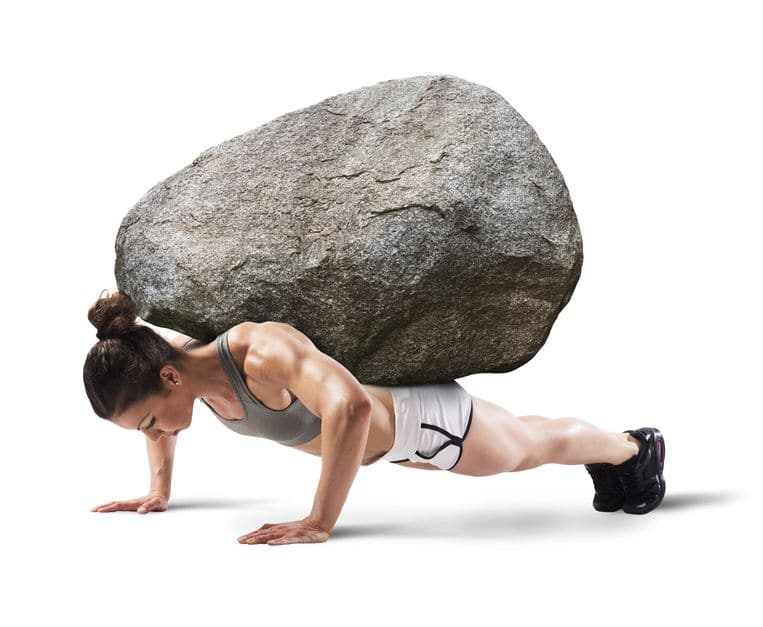 There might be a better way for you
Even fidgeting when you sit improves the number of calories you burn each day. Movement matters most. Especially for those who will never jog, bike, or go to a gym. And the last thing you want to do before or after a long day at work is – well – work more. What if we replace the word "exercise" with "move" or "get up." I'm sure there are many times throughout your workday where you think to yourself "I should get up and move around."
What is Exercise?
The definition of "exercise" as defined by the Oxford Language is "​​activity requiring physical effort, carried out to sustain or improve health and fitness." By this definition, walking, taking the stairs, and even just taking 15 steps about your office can be considered "activity requiring physical effort" and according to this study can "improve your health and fitness." Exercise does not need to be an "all or nothing" idea. You can snack on exercise – literally.
What is Exercise Snacking?
"Exercise snacking" refers to fitting physical activity into your day by breaking it down into small, bite-sized pieces. Just as we engage in regular snacking to sustain our energy and blood sugar, you can do the same with movement. Five minutes of stretching here – 2 minutes of walking there – it all adds up by the end of the day!
New research from the Journal of Applied Physiology found that interrupting 30 minutes of sustained sedentary activity (i.e. sitting) with 2 minutes of movement or a set of bodyweight exercises like squats can help stabilize blood sugar levels and lead to decreased risk of cardiovascular disease, obesity, and type II diabetes. That is the reason we exercise, right? To avoid disease, increase our muscle mass, and improve our longevity. Yes, the muscle bulk and changes in body composition are a positive perk no doubt; however, even a bodybuilder can develop heart disease if he/she goes straight from the gym to their office desk to sit for 8+ hours a day. Keep in mind… when it comes to longevity– muscle mass matters.
Science supports exercise snacking
This paper showed that exercise snacking which consisted of walking up a few flights of stairs improved people's cardiorespiratory status. For young folks, this article showed that 3- 20 second sprints three days per week led to significant improvement in health.
So, how do we increase our muscle mass and improve our longevity with just "exercise snacks?" The recommended amount of strength training for adults is 30 minutes 2-3 times per week. Current literature demonstrates performing an exercise close to fatigue typically takes about 12-15 repetitions with the appropriate amount of weight (or – about 2-3 minutes of work). If your goal is to build muscle then fatigue is an important variable. If, however, you are looking to improve your health. Then you do not need to consider going to fatigue on these exercise snacks.
Examples of Exercise Snacking
Instead of blocking exercise to just 30-45 minutes and sitting the rest of the day, break your exercise bouts into smaller bits – like snacks!! Here are examples:
⦁ Go for a 10-minute walk in the morning or engage in 5-10 minutes of yoga while you wait for your coffee to brew.
⦁ About 1-2 hours before your lunch break, set a time for a snack! Grab an apple, and walk about your office while you eat it.
⦁ Set a timer for every 30-60 minutes and perform 10 ⦁ sit-to-stands from your chair. These are essentially squats, which are great for increasing lower body muscle strength. If you need more reasons – read my article about the benefits of squatting.
⦁ If your at-home office is on another floor, take a snack to walk up/down the stairs. Even just doing it one time is more movement than you've done before, and it provides an opportunity to strengthen your leg muscles, which as we know, is good for ⦁ longevity and reducing the risk of sarcopenia: age-related muscle loss.
⦁ After work, do your same 10-minute walk or 5-10 minutes of yoga that you did in the morning. It will provide some closure for the day and get in that last bit of movement your body needs after sitting all day long.
If you engage in all 5 ideas listed above, then you will have moved for an extra 20-25 minutes that day! AND – you won't break a sweat, feel pain, or feel drained afterward. In fact, you may even feel more energized.
Exercise Snacking and Cognitive Performance
Short bouts of exercise are also shown to enhance cognitive function in this study, where a 3-minute boxing routine increased pre-frontal cortex activity and neurocognitive performance.
Watch your productivity increase and find even greater satisfaction in your job with just 3-minute movement breaks. This is where using an alarm on your phone or computer can be very useful, as we all tend to get caught up in work-related tasks and go 2-3 hours without moving. Set an alarm that goes off every 57 minutes, then use the final 3 minutes of that hour for movement. If you do this every hour for an 8-hour workday, then you've accomplished 24 minutes of exercise! Imagine if you continued this routine every day. That would equate to 120 minutes of exercise each week! Without even entering a gym! Talk about productivity.
Exercise snacking is all about finding your routine and making movement more achievable every day. You may even find the urge to increase this routine – finding 30-45 minutes of movement every day because you've found a routine that works for you. Creating an exercise routine takes as little as just 30 days – which you can learn more about in my article here. The 30-day challenge.
Remember, exercise snacking is all about breaking your movement needs into smaller bits. Don't feel pressured to do it all at once or to do it every day at first. Habits take time, and the "all or nothing" approach tends to leave people exhausted – giving up on the goal quickly. Start today with just one 3-minute movement break during your workday. Set a timer and do 10 chair squats, 10 lunges, 10 jumping jacks, and 10 arm circles. Face it… It's more than you did the day before.