Pain in the front of the knee is a common complaint in teenagers and growing children.  Anterior knee pain is common in teen athletes.  It is particularly common in teens who are involved in jumping sports, sprinting sports, and activities such as running hills or stairs.  Most children with pain in the front of the knee or anterior knee pain do not recall any injury trauma.  Swelling is not common in most patients with anterior knee pain.  For most teen athletes, anterior knee pain will subside or go away on its own.   As I discuss further down, a full recovery is dependent on the cause of the pain and the treatment chosen.
For some teen athletes, the pain might continue despite the best efforts of their athletic trainers, physical therapists and sports medicine surgeons.
Children or adolescents with patellofemoral pain complain of pain in the front of the knee with various activities.  The pain can occur with running, jumping, hills and stairs.  Occasionally the pain occurs with simple activities of daily living.   Some may notice snapping or popping.  Some may notice that their patella clunks in and out of its normal position.  Most patients with patellofemoral or anterior knee pain will not notice any of these "mechanical" symptoms.
A recent study in a sports medicine journal studied patellofemoral pain in adolescents and found that in more than 50% of cases, the pain became chronic and did not resolve on its own when these kids were reassessed two years later.  Sadly, in the group who had persistent pain, sports participation dropped off significantly.   The Patellofemoral pain was significantly affecting their quality of life.  What are the most common causes of anterior knee pain and what can be done to treat it?
Causes of Patellofemoral / Anterior Knee Pain: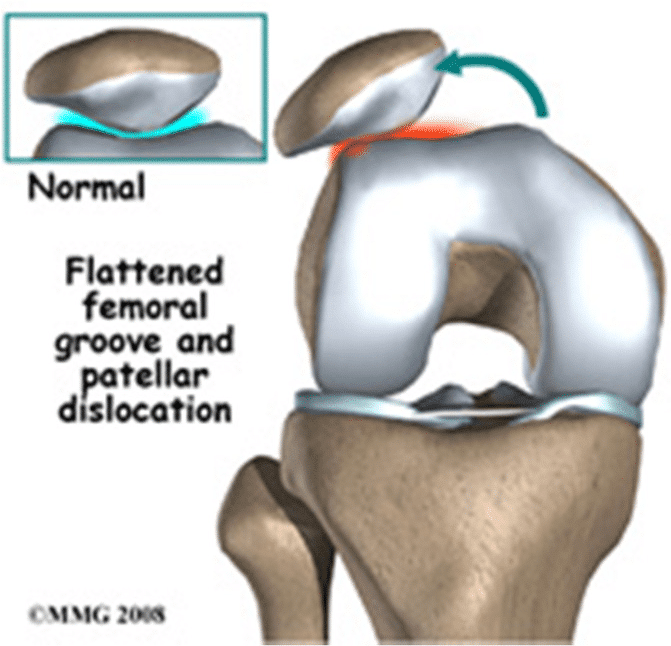 Patella instability:  The kneecap or patella rides in a groove on the femur. If the patella does not track properly within the groove it can produce pain or a mechanical clunk depending on the severity of the problem. Read more on patella instability.
Plica Syndrome: A plica is a small fold of tissue inside the knee.  It is usually found along the inner side of the patella and is a very common cause of patellofemoral pain.  In some situations, the plica simply becomes inflamed from repetitious activity, but occasionally the plica can thicken and produce a painful snapping with bending of the knee.

Notice the fissures and irregularity of the cartilage surface.

Chondromalacia:  This implies that the cartilage in the undersurface of the patella is getting soft.  The cartilage can develop fissures and even defects or holes in the patella. Click here to read more on chondromalacia 

Hip and Pelvic muscle weakness:  This is a chicken vs the egg problem. Most people with patellofemoral pain are known to have weakness of the hip and pelvis muscles.  They have poor core stability on testing.  Did this cause the patellofemoral pain or did the anterior knee pain lead to weakness from activity modifications?
Treatment of Patellofemoral Pain in Adolescents:
Most patients with patellofemoral pain will have a self-limiting course, which simply means that with a few days of rest, ice, heat and stretching their symptoms will go away.  For those whose pain persists, or with those who have obvious patella instability more aggressive management might be necessary.  Treatments include physical therapy, bracing or compression sleeves. After physical therapy for patellofemoral pain, most adolescents will be able to return to sports.  In the group that continues to complain of anterior knee pain more invasive or surgical management might need to be considered.  The exact nature of the surgery which will be discussed will depend on the type of instability or cause of the anterior knee pain that you have.  Check out this post on patellofemoral pain due to instability for more information.
If you or your child are suffering from patellofemoral pain which is not resolving spontaneously, see your favorite sports medicine professional for a specific diagnosis and treatment plan.