The runners knee … a runner's biggest fear.  A runners knee is typically characterized by pain in the front of the knee.  Determining the cause of your runners knee is critical to determining the appropriate treatment plan.  You may be surprised at the areas of your body which can contribute to your pain.
I love working with runners.  We are a very driven and dedicated breed.  Running completes us.  Unfortunately,  few runners are capable of keeping up a hard training schedule without pain.   Most of the runners I meet on the trails or see in my office suffer from one runner's malady or another.  Most runners can carry on with minimal discomfort, but eventually something will sideline us for a while.
Could your runners knee injury have been prevented?
Can you be proactive in minimizing the risk of developing a significant running knee injury?
Taking a very active role in wanting to be able to run for a few more decades will go a long way in making that a reality.
1. Proper Running Shoe Tips
Get over how the shoe looks … it's the least relevant factor in choosing the proper shoe
Shop for shoes at the end of a day.  Our feet swell .. so a shoe bought in the early AM will likely be too small.
Our feet swell when we run.  Are your toenails black? Blistered?  Your shoes are probably too small and will not accommodate the swelling.
Don't ask for a certain size … measure it, try it on, lace it up and run.  You should feel some give in the shoe.  Women in particular need to heed this warning.  They tend to wear snug shoes… which could lead to purchasing a running shoe that is too small.
 2. Runners Knee and our HIPS – Cause or Effect
Runners knee or Patello Femoral Pain Syndrome (PFPS) is that annoying pain in the front of your knee.
The cause of PFPS remains largely unknown. But the hip/core are felt to be significant contributing factors.  See diagram below.
Runners with PFPS have weak hip musculature. This might cause stress on the patella and therefore pain in the front of your knee. The diagram below shows how poor mechanics and diminished hip/core strength can lead to PFPS or a runners knee.
But we do not know if the weak hips caused PFPS or vice versa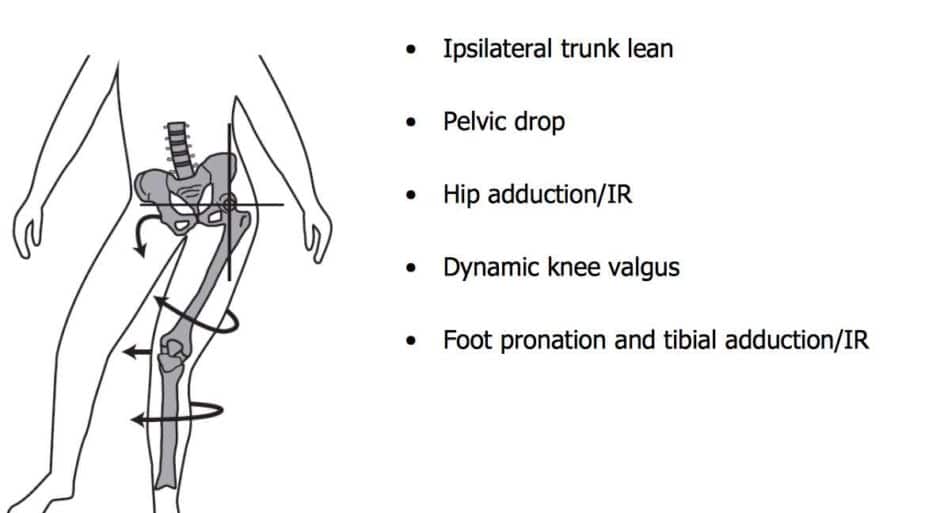 3. Stretching … It's good for you? right?
4. Training Injuries
You have a race in two weeks but you've been sidelined for a month.  Please do not enter the race .
Our body deconditions very rapidly, especially in a novice.
We loose bone mass — or our bones become less dense when we stop exercising.  When you exercise your bones become more dense to handle the stress.  When you stop exercising the body takes the calcium and bone away :(
It takes months to recondition your body and restore your lost bone mass.  The longer the period of rest, the longer it will take to return back to your usual schedule.
Trying to ramp up a training schedule too rapidly will lead to one of many stress injuries which will simply put you on the sidelines longer.