 PRP or platelet rich plasma injections for knee arthritis are very popular these days.  Many physician are administering PRP injections to patients with osteoarthritis and many other disorders.   There has been a lot of controversy about PRP injections — but one of the more recent studies show that PRP injections might slow the progression of your knee arthritis.
Many questions (should) arise when the topic of PRP injections for arthritis of the knee is discussed in the office.
Can PRP injections alleviate the pain of arthritis?
Can PRP improve your quality of life?
Can PRP slow the progression of your arthritis?
PRP or platelet rich plasma is a treatment that can be offered to patients with osteoarthritis, and many tendon disorders such as tendinosis.  This office based procedure involves taking a sample of blood from you and preparing it in a centrifuge.  We then take a certain portion of your blood out of the tube and inject it back into your knee, elbow, or whatever structure we are treating.  The sample now contains your platelets which are cells in your blood that contain a lot of inflammatory and healing chemicals.  Once the platelets are injected back into you, they will release these chemicals which stimulate other cells to come to the area of injury or pain.  Those recruited cells and the chemicals released by the platelets can diminish inflammation, and in some situations lead to healing.
The research surrounding the use of PRP injections is significant, and yet, at this point still in its infancy.  Some studies show significant improvement, while some show little improvement over a placebo.  The issues with the research is that a placebo itself can result in relief, and not all PRP preparations are the same.  Different manufacturers also prepare the PRP in different ways — so we may not be comparing apples to apples.
Can PRP Prevent Arthritis from Worsening?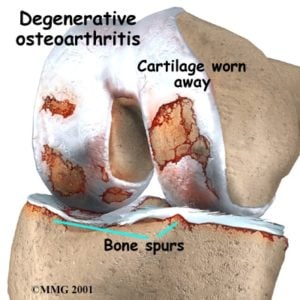 A recent study performed in 2013 set out to see if PRP might actually slow the progression or worsening of osteoarthritis.  Osteoarthritis involves the loss of cartilage in your knee.  Previous studies have shown that the average arthritic knee can lose up to 5% of its cartilage ( or cushioning) every year.  In the study quoted above, they found that 1 year after a PRP injection for arthritis of the knee, there was no further cartilage loss in more than 70% of knees.
"We are entering into an era of biologic treatment, which is incredibly ideal, where you can use your own cells to try to help repair your other cells, rather than using a substance that is artificial," Dr. Brian Halpern
Bottom Line: The take home message is that PRP injections might slow the progression of osteoarthritis.  PRP injections might preserve the cartilage that you have left within your knee. PRP injections appear to improve your quality of life and may enable you to put off further consideration of surgery as an alternative treatment.  BUT, PRP injections have NOT been shown to reverse or cure the arthritis,  yet.  Many, many more research studies are needed. Stay tuned …