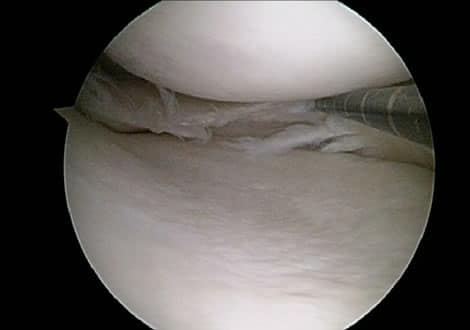 Complex degenerative meniscus tears are quite common. The majority of us will develop them in our lifetime. The research has been clear over the years. The vast majority of these complex tears do not require surgery. This podcast will explore the function of the meniscus and the consequences of surgery on complex tears of the meniscus.
The meniscus has a very important function in our knee. We have a medial and a lateral meniscus. Both of the menisci play a role in how weight-bearing forces are distributed across the knee. When you step on your knee you put 5-7 times your body weight across your knee as a mechanical load. Any changes to the meniscus will increase the load that the articular cartilage or cushioning in your knee is subject to. That increase in stress will cause the articular cartilage to degenerate and osteoarthritis will occur.
The picture above shows how your weight is distributed across the knee when it is functioning well. If the meniscus has been removed, even if a small piece has been removed, then the stress on the articular cartilage increase 3-fold. That can cause osteoarthritis, which may go on to require a knee replacement.
Your risk of developing osteoarthritis increases when a meniscus tear occurs. That risk is likely dependent on the type of meniscus tear you have. Degenerative or complex meniscus tears are associated with a lower risk of arthritis development than root or buckets handle tears.
In this podcast, I discuss the what a meniscus is, why it is important, and the result of a study on your risk for requiring a knee replacement if you have a part of your meniscus removed.
Meniscus surgery does not guarantee that you will require a knee replacement. However, as we will discuss it certainly increases the risk of arthritis development significantly. In addition, the discussion in this podcast pertains to a complex or degenerative meniscus tear. Radial or root tears, as well as bucket handle tears are looked at differently. Root and Bucket Handle mensicus tears may benefit from a repair where the meniscus tear is actually sutured back together. In those situations, a meniscus repair may serve you better than a non-surgically managed root or bucket handle tear.
The vast majority of tears in adults are complex degenerative meniscus tears. So this podcast will pertain to most tears that occur after we reach the age of 40.
Click on the orange circle in the picture to listen to the audio.