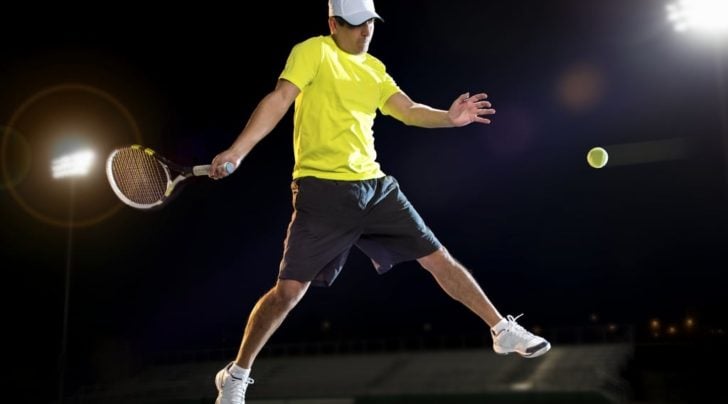 Rotator cuff tendinosis is a  very common cause of shoulder pain. Your rotator cuff tendons control the motion of your shoulder joint.  They are four very important muscles and their structure can change with age, or because of your activities.
What is Rotator Cuff Tendinosis?
Tendinosis of the rotator cuff is a degenerative (genetic, age or activity related) change that occurs in our rotator cuff tendons over time. Rotator cuff tendinosis is exceptionally common.  Although many people with shoulder pain will be found to suffer from tendinosis.  Many, many people have tendinosis of the rotator cuff and do not even know it.   Why rotator cuff tendinosis bothers some people and doesn't bothers others is currently a question the orthopedic surgery  community can not answer.  Rotator cuff tendinosis is just as likely to be found in a professional body builder as it is likely to be found in a true couch potato.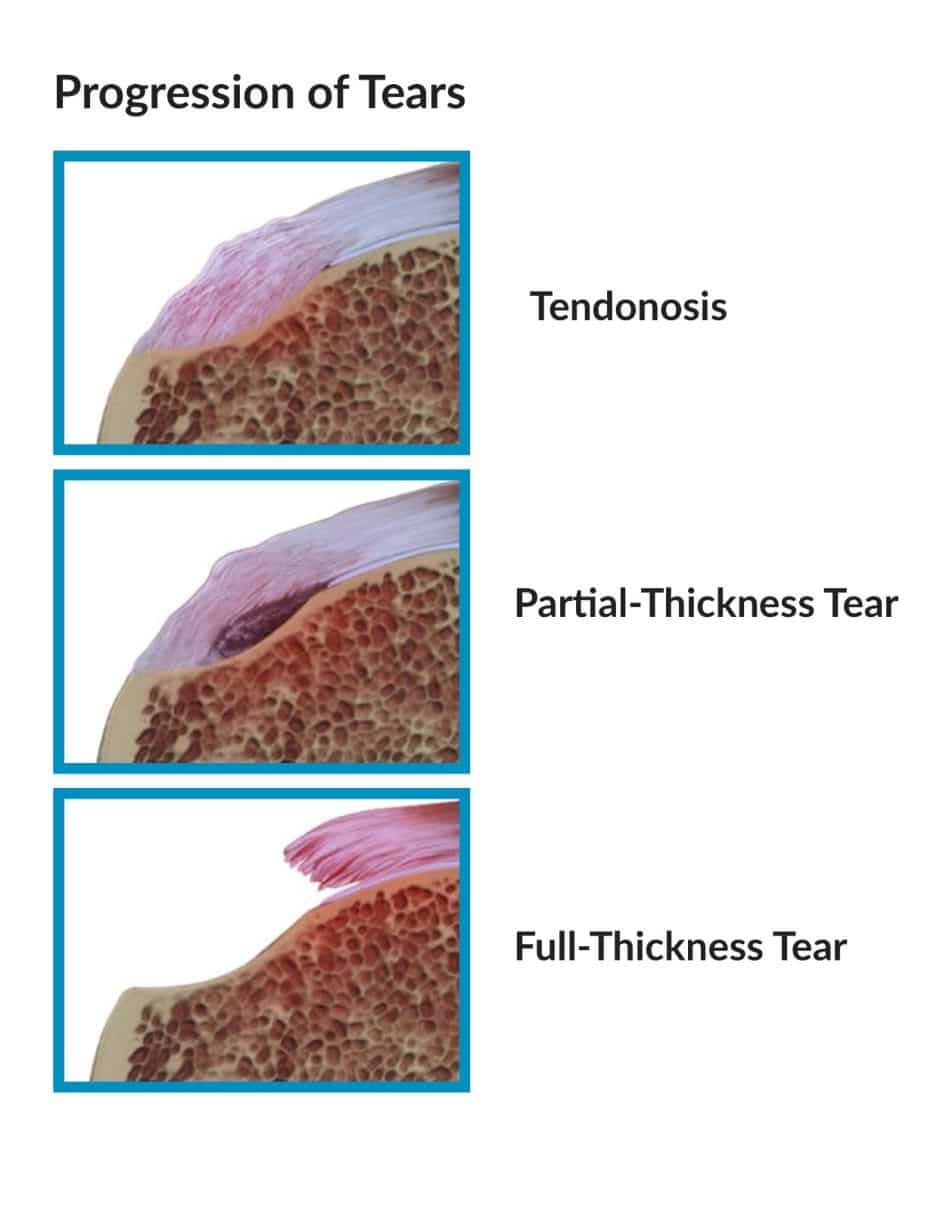 What does Rotator Cuff Tendinosis Look Like?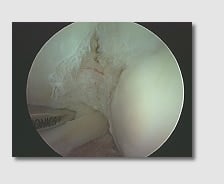 In this photo, the white round structure on the right is the top of the humerus. The frayed tissue just to the left is the rotator cuff. This patient was suffering from rotator cuff tendinosis and a partial-thickness cuff tear.
Tendinosis represents a structural change in the tendon at a microscopic level. This  results in disorientation of the tendon structure and, ultimately, partial tearing as the weakened tendon gives way.  The analogy I always use is your favorite pair of blue jeans.  You wear them for years and then one day you feel a breeze down by your knee — you look down and there's a hole.   No trauma, no accident… the fabric just wore out.
Therefore, rotator cuff tendinosis is not the result of a single traumatic event. It is brought on by genetics, age and repetitive activity. We are not sure why some patients with rotator cuff tendinosis have pain, and others do not.
How Do We Treat Rotator Cuff Tendinosis
Many patients with rotator cuff tendinosis and partial tears do not require surgery and will respond very well to a coordinated physical therapy program to strengthen the remaining cuff tissue. Moist heat, Ice and anti-inflammatories can work well, too.
Rotator cuff tendinosis is a biological problem … our body is actually changing the tendon tissue.  Only very recently have treatment techniques evolved to enable us to treat rotator cuff tendinosis that fails to respond to non-surgical measures.  It is a technology developed by Rotation Medical and enables us to place a "bioinductive" patch over the area of tendinosis, which over a period of a few months has been shown to reverse the degenerative changes and heal your tendon.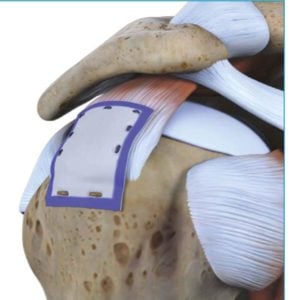 Over time, this patch will incorporate into the tendon and alter the structure of the tendon. Most patients .. in our series to date, have had significant relief, even after trying other surgical procedures first which had failed.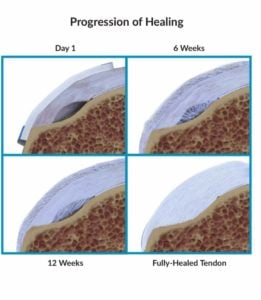 You can read more here about this approach to treating shoulders with rotator cuff tendinosis.