ACL injuries are incredibly difficult for most athletes to handle.  The injury is just first blood drawn in a long battle.    The surgery is painful. Recovery from ACL surgery is in the best of circumstances is long.  Recovery from ACL surgery is hard.  And it can have an enduring impact on the athlete. Why will some athletes never return to sports after ACL surgery?
Many people marvel at the rare site of an athlete who battled back from ACL surgery within 6 months.  What they're not seeing are the 100 other athletes who had the same injury on the same day 6 months ago who are still damaged.  And they may never see a few of those athletes on the field again. Why?
Why some athletes never return to sports after ACL surgery.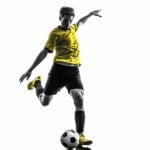 For far too many decades we have viewed the recovery from an ACL injury and purely a mechanical or physical issue.  We must retrain the muscles and mechanics.  But we ignored the brain… and everything that goes along with that.  Emotions and psychology matter.  It turns out that there are also physical changes that happen within the brain of the ACL injured athlete. We just discovered this so we have no idea about how significant of an impact this might have on recovery.
Face it, not all athletes are considered equal.  Some of our sub-elite athletes are goal driven, self motivated machines.  They are going to a D1 school… period.  They will do anything to get there.  Then there are the 90% of other athletes.  Their parents might want them in a D1 school, but they don't share their parents enthusiasm.  They like playing… but put a serious roadblock in their way and it's unlikely they will want to take the risk of this happening again.
Then there is the issue of timing.  An ACL tear at the start of their senior year means that sports are out for the rest of the year.  Most high school athletes do not plan on playing college ball.  They are hunkering down for the next chapters in their lives and an ACL reinjury is not worth it to them.
Fear of ACL Reinjury
Fear of reinjury is by far the number one reason why many athletes will never return to sports after ACL surgery.  They may return to the field, but they will not be performing at close to the same level as they did prior to their injury.
Unless you have experienced the pain from the injury and the recovery and dedicated months towards proper rehabilitation following ACL surgery you really do not have the same perspective as the athlete does.   We are just starting to learn about how critical it is to care for the athletes emotional and psychological well being.  Physical therapists and athletic trainers have a huge role in this.   Perhaps if we manage the entire athlete, the whole person, then maybe the number of athletes who return to the field after an ACL injury will improve.  Time will tell.  For now, the numbers who return to their previous level of competition remains unacceptably low.