ACL tears are far more common than in the past.  Up until recently our primary goal of ACL surgery was to stabilize your knee to prevent further damage.  It appears that we now have evidence that ACL surgery may minimize the risk of developing osteoarthritis.
If you try to return to sports with a knee without an ACL the knee becomes unstable.  When the knee is unstable it can give way. Each time your knee gives way there is a risk that you will incur further damage to the meniscus or the cartilage on the ends of the bones.  Damage to a meniscus or the cartilage on the end of the bone will lead to osteoarthritis.
When you tear your ACL you might also have a meniscus tear. Many ACL tears occur without damage to the other structures in the knee.   When we see an athlete in our office with an ACL tear the primary goal of surgery to repair or reconstruct the ACL is to try and allow that athlete to return to the field.  Adults who tear their ACL have a choice.  Many adults can live a long happy and active life without an ACL.   Some adults with ACL tears will experience instability.  In those instances, they will have a choice to make.  Change their activities or have ACL surgery to stabilize the knee.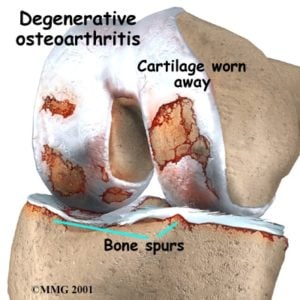 Repairing the ACL has advantages beyond allowing you to return to your active lifestyle.  By stabilizing the knee an ACL reconstruction can minimize the risk of tearing a meniscus which is common in an unstable knee.  If we can minimize the risk of developing a meniscus tear or other further damage then we can decrease the risk of developing osteoarthritis of the knee. Bracing is an option considered in older individuals to try and control a knee which is unstable.
Researchers from the Mayo Clinic recently published a retrospective review looking at about 1000 patients followed over a 10 year period.  Their study shows that an early reconstruction of the ACL can be protective.  Early ACL surgery can prevent the knee from developing arthritis as a result of further damage to the meniscus cartilage.
Although more research is necessary, it appears that ACL surgery can decrease the risk of developing osteoarthritis after an ACL tear.
Amazon affiliate link on this post
Disclaimer:  this information is for your education and should not be considered medical advice regarding diagnosis or treatment recommendations. Some links on this page may be affiliate links. Read the full disclaimer.