Osteoarthritis (OA) is a prevalent condition. Age, weight, our metabolic health, and prior injuries contribute to our risk of developing OA.
Each and every day in my office, I see people who used to walk, jog, or play tennis. Then they stopped. They stopped because someone told them to "save their knees." Or perhaps they stopped on their own because they were nervous about causing more damage. The word osteoarthritis scares people. They look at it as a death sentence for their active lifestyle. I'm here to say… that's not an approach the research supports. You do not have to give up the activities you enjoy.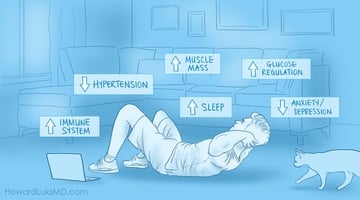 First… rest will not save your knee. OA progresses slowly despite your activities. Second, humans die of very predictable causes. Most of those diseases are moderated in severity by exercise. Therefore… you need to stay active.
I have written extensively about this subject in many posts on this site. For most of you, OA is a biological issue and not a mechanical issue. That means that you're not rubbing away your cartilage with every movement. That grinding sound can be ignored.
Some of those articles I have written about understanding osteoarthritis and thriving despite the diagnosis are listed below.
Many of you remain skeptical despite what science says. That's understandable. It seems intuitive that activity might make OA worse. Yet, the research continues to say it doesn't.
Some of you may have too much pain to exercise. I get that! That means that you need to adjust your exercise to a level that you tolerate. And if the pain is still too severe, talk with your Orthopedic Surgeon.