Medial joint space narrowing is a common term many of you will see in your x-ray and MRI reports. Medial joint space narrowing is a long-winded way of saying you have arthritis on the inner, or medial side of your knee.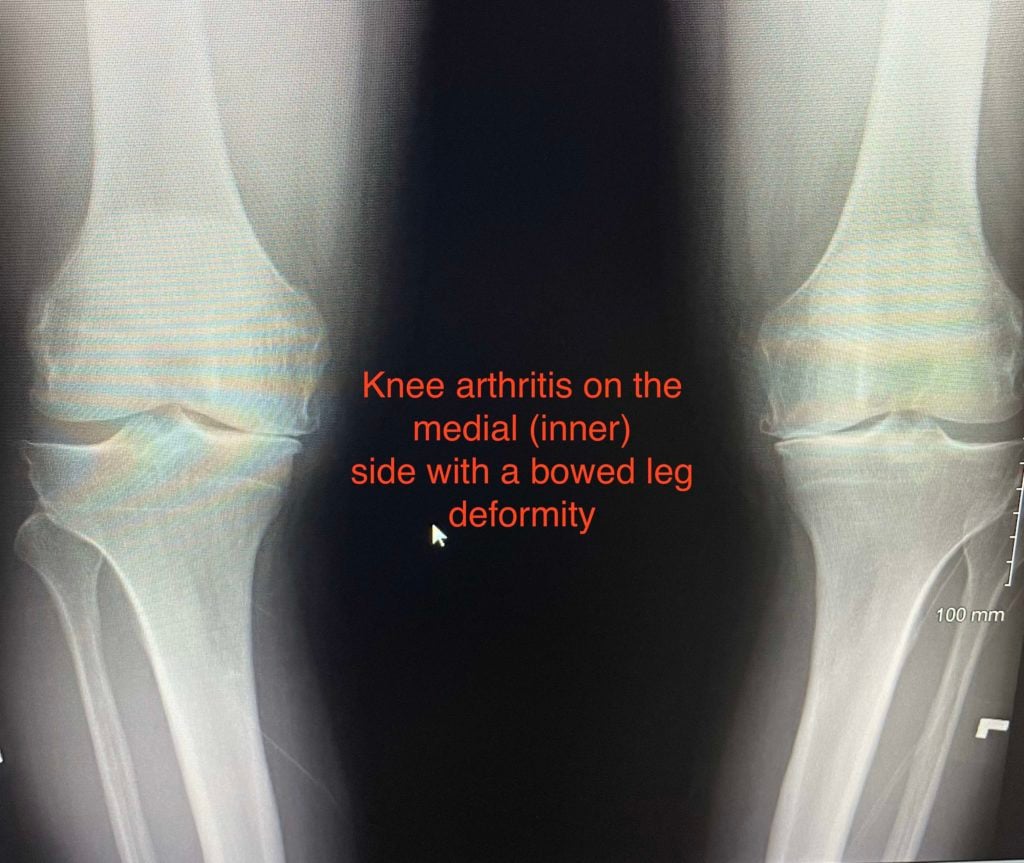 Knee pain due to arthritis can be disabling, or the pain can be mild. Sometimes people are searching the term medial joint space narrowing because they are nervous. Sometimes they are searching for remedies… and a few remedies exist. Many weekend warriors develop knee pain. Sometimes that pain will follow an injury, and sometimes it simply crept up on you and you cannot recall any recent injury.
Medial joint space narrowing means that you have osteoarthritis on the inner side of your knee. On the X-ray above you see that the bones are touching one another on the inner side. Swelling will often accompany osteoarthritis because it is an inflammatory condition. In general, people with medial osteoarthritis or medial joint space narrowing will have more pain if the knee is swollen. That's because the swelling implies that there is more inflammation, which causes more pain.
When the pain first occurs it tends to be very painful. After a few weeks, the pain tends to subside or improve on its own. Anti-inflammatory medications might help… we will talk more about treatments down below.
In patients who rush to the doctor's office, it is not uncommon for your doctor to order an MRI. For many of us, once we hit middle age it is very common to have a degenerative meniscus tear in the setting of medial joint space narrowing or osteoarthritis. These degenerative meniscus tears tend to occur because that side of the knee is wearing out. So along with the cartilage loss, which causes the narrowing, you also tend to overload the meniscus and it begins to tear too.
We have had many blogs posts here about meniscus tears: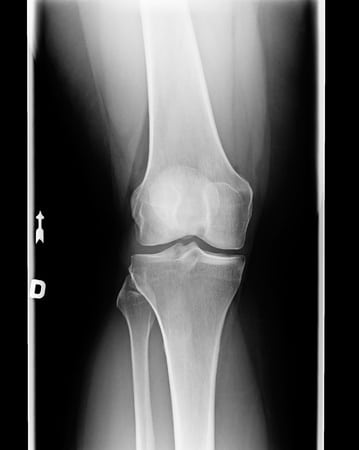 What is Medial Joint Space Narrowing?
It is very common for meniscus tears to coexist in arthritic knees. Our parts wear out, and arthritis and meniscus tears can be the result. Interestingly, the arthritis is often not due to wear and tear. That means that you did not develop this from exercising too much. Arthritis means that you have started to lose cartilage off the end of the bone. Therefore if you have less cartilage, you have less cushioning which can lead to pain, swelling, and weakness. When osteoarthritis starts, it usually does so in one of the three compartments in the knee. The medial, or inner compartment is the most common area for arthritis to start.
In the upper X-ray on the right notice the thigh bone above, and the shin bone or tibia below. Between the two bones is the joint space. Note how both sides are equal. That means that there is a normal amount of cartilage on both sides of the knee.
As arthritis progresses, you will lose cartilage in the knee. It is very common to lose cartilage on the inner or medial side of the knee first. When arthritis progresses to a certain point we will start to see the changes on your X-ray or MRI. On the second X-ray below you can see that the space between the bones is less than in the normal X-ray above. That represents medial joint space loss and moderately severe osteoarthritis of the medial compartment.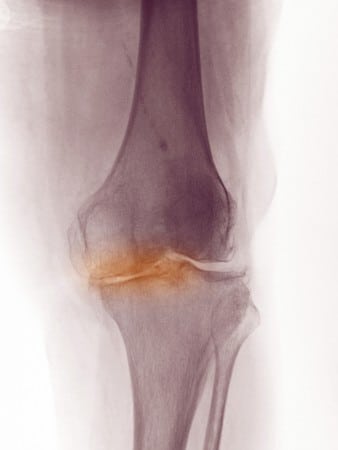 When you suffer from arthritis and meniscus tears the best strategy is to try and avoid meniscus surgery. Arthritic knees are cranky and do not like meniscus surgery. So-called cleanouts or surgery on only the meniscus tear do not work because the surgery does nothing to treat osteoarthritis. Even "minimally invasive" surgery such as arthroscopy. I have seen many patients over my 20 years do very well without needing surgery for their degenerative meniscus tears when they also had medial joint space loss. I've also seen many patients who are worse than before surgery. Once arthritis reaches a certain severity it will have a significant influence on the results of arthroscopic surgery for meniscus tears.
For people who are young and active… and in this situation, I am referring to anyone under 65 who was recently active on the tennis court, running trails, biking, etc we have better surgical alternatives if your knee pain does not subside with non-surgical measures such as:
Physical therapy
Certain supplements
Occasional injections
Weight loss
Lower your sugar intake (very inflammatory)
Time.
For those of you who have persistent pain and are interested in getting back to an active lifestyle, surgery might be indicated.
One of the most gratifying surgical treatments for medial joint space narrowing is called a High Tibial Osteotomy, or HTO. I go into a lot more detail about HTOs in this post.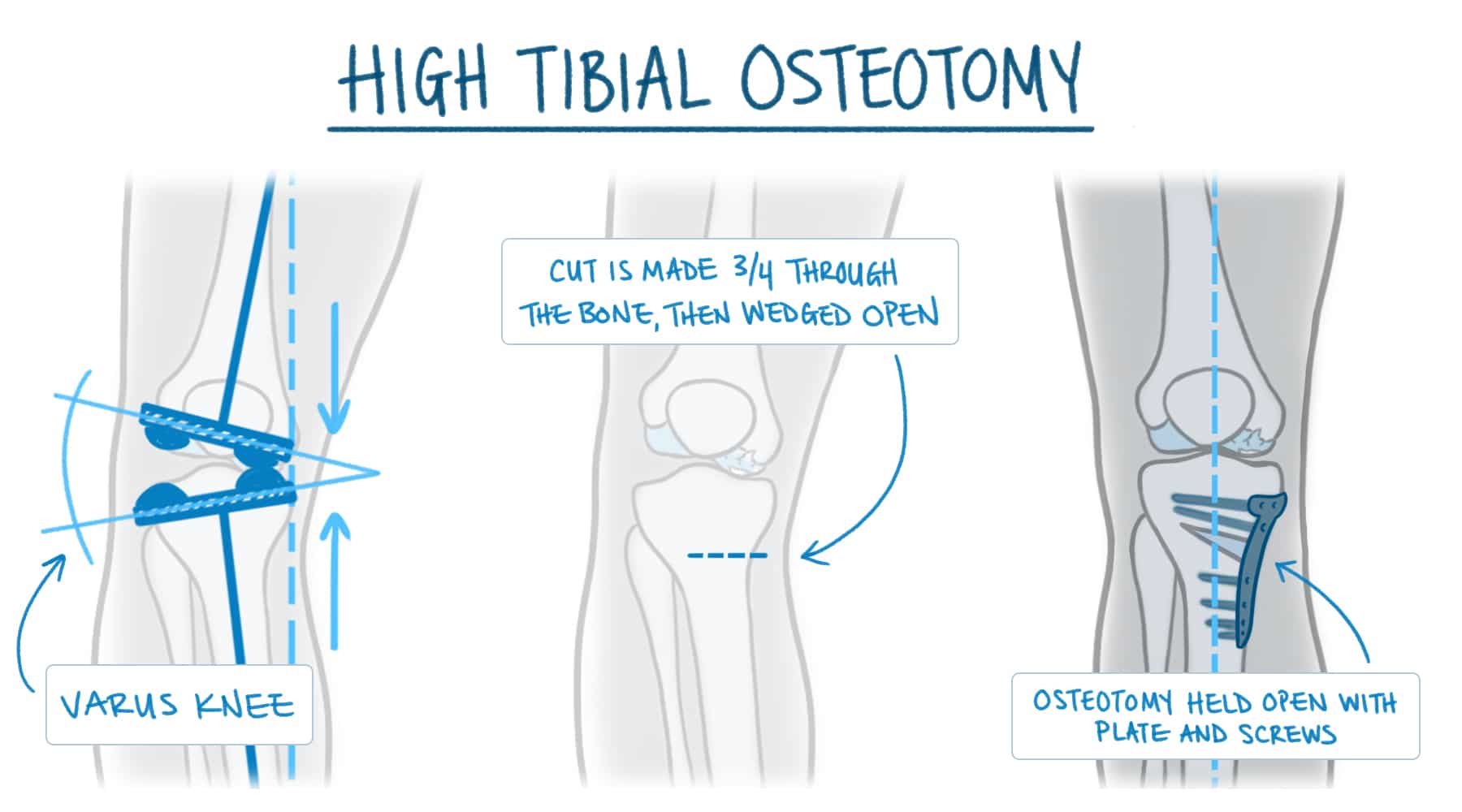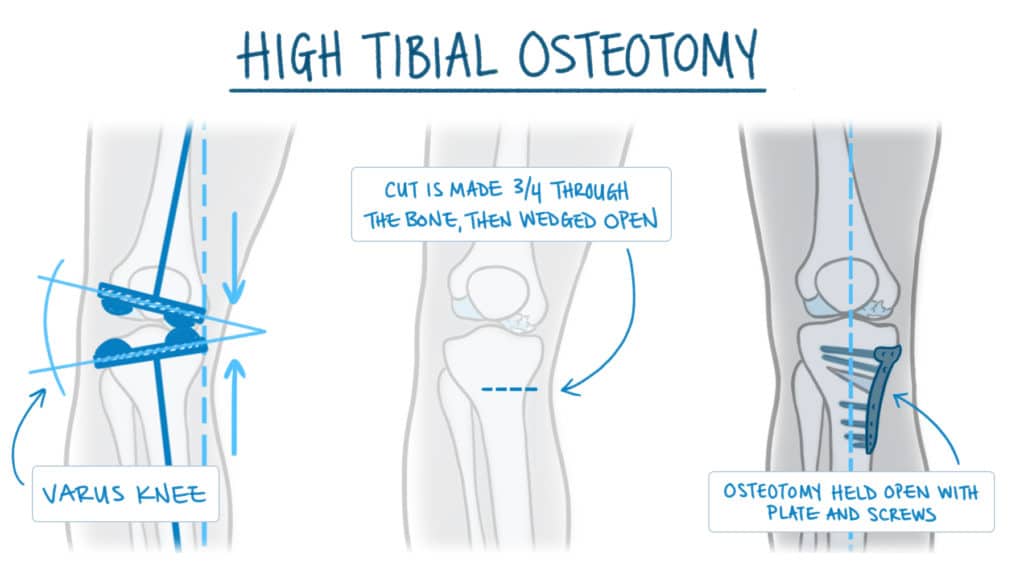 The picture above shows how a bowed leg due to medial compartment narrowing continues to overstress the medial compartment. The dashed vertical blue line on the images shows where the force going down your leg is felt by the knee. In a bowed knee due to medial arthritis, most of that force is coming through the medial compartment. That's why you have pain. An HTO realigns or straightens your leg so the force of weight-bearing is now shared equally across the knee. That often alleviates the pain coming from the medial compartment. You should read the HTO post if interested. People who run or exercise a lot often prefer the HTO to a knee replacement because they can return to running and other robust activities after the procedure. Something you may not be able to do after a knee replacement.
Others may need to consider a partial knee replacement. If I saw 5 people in a row in my office with medial joint space narrowing due to medial compartment osteoarthritis we could come up with 5 different treatment recommendations. We do not treat X-rays alone, we treat people. So the right treatment option will depend on your goals, when your knee hurts, what your medical status is, and other variables that we need to talk about.
It's very important to remember that osteoarthritis is a biological process… so the cartilage is wearing out due to chemical changes in your knee. It is not wearing out due to a mechanical issue… it's not like sandpaper rubbing away wood. That means that if you have minimal pain you can remain active. This post goes into detail about why it's ok to exercise with osteoarthritis. Many runners are told to stop running. If you are a runner and do not have a lot of pain it is generally ok to run… running and osteoarthritis can coexist.
Of course, your arthritis will worsen slowly over time. In time you might need to think about having a knee replacement. But resting will not prevent the osteoarthritis from worsening. And rest comes with serious consequences for your overall health.