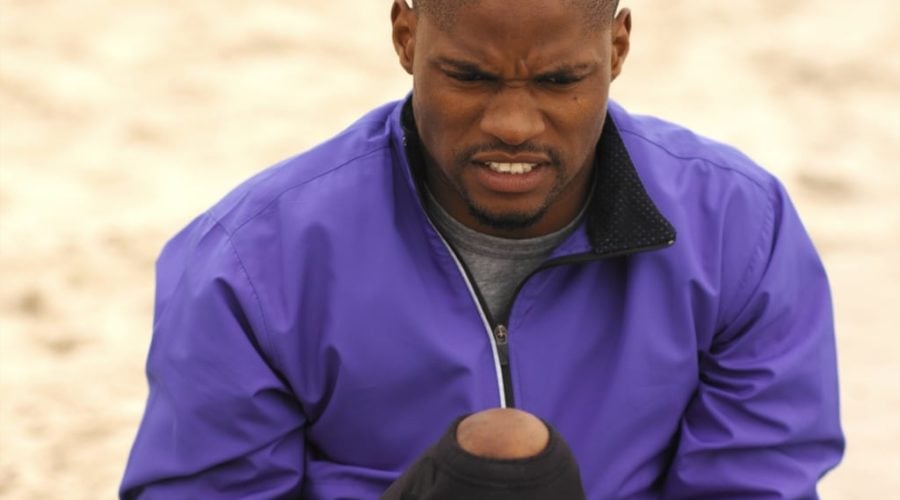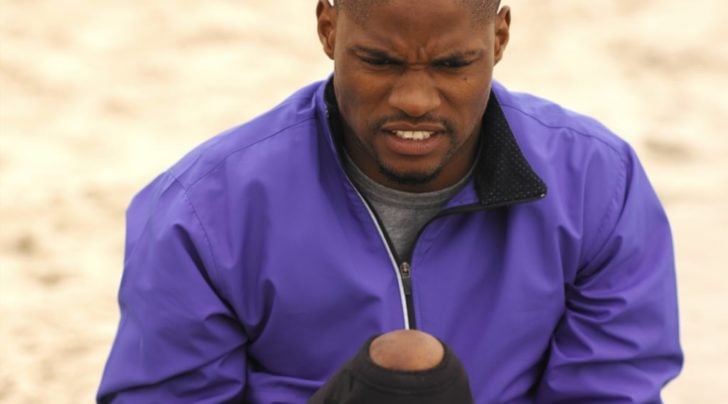 Pain in the front of the knee or anterior knee pain is very common. Do any of these scenarios seem familiar to you? You come to a stairway and cringe at the thought of having to walk downstairs. You love to run, but the anterior knee pain you have when running downhill has taken the joy out of running. If you've been sitting for a while, the thought of having to get up is becoming too much to bear. While I could say "you're not alone," that's not very comforting. You are here for answers. Let's see how we can help educate you on why the front of your knee hurts so much.
Anterior knee pain: the basics
Pain in the front of the knee – or anterior knee pain can affect people in all age groups. Approximately 25% of people will suffer from pain in the front of their knees at some time in their lives. I have seen teenagers who can longer participate in sports, and I have 70 years olds who can no longer walk downstairs without fear of their knee giving way. Why is our kneecap or patella so prone to bothering us like this?
The cause of anterior knee pain might vary based on your age, level of activity, and your chosen sports. We can see people who are inactive and suffer from pain in the front of the knee, and we can also see people who are highly trained and disciplined who are suffering from pain around the kneecap. The majority of people who have pain in the front of their knee do not recall any injury.
In the majority of cases of anterior knee pain, we do not find anything significant wrong with your X-rays or MRI scans. It seems that the pain in the front of the knee is often due to imbalances, weakness patterns, movement patterns, and complex issues that can take a while to figure out. Yes, some of you might have a cartilage defect or some early arthritis in the front of your knee… but believe it or not, the majority of you will have pretty normal-appearing imaging studies. That has led to a significant change in our approach to anterior knee pain over the years.
You want your pain to go away. I get that! Let's review some common and not-so-common causes of pain in the front of your knee.
While our imaging studies may show few abnormalities are present in most knees, a few of you might have something show up on an X-ray or MRI. That's more often because no one over 35-40 has a "normal" knee MRI. Therefore, understanding the muscle imbalances, movement pattern abnormalities, and potential structural causes of anterior knee pain is also very important to know how to treat it.
Anterior knee pain is particularly common in young women and many runners.
The symptoms of anterior knee pain vary … some of you might have very mild pain, while some of you might have very severe pain. Some people feel a burning pain around their kneecap; others will get a sharp stabbing pain under their kneecap.
Most of you will notice that the front of the knee hurts when arising from a seated position or walking up and downstairs. Some will describe it as a burning pain. Others might feel clicking, grinding, or popping. Sitting for a long while will typically be very uncomfortable. If the pain in the front of your knee worsens, your knee may start to feel like it wants to give out, or your knee might begin to feel unstable. Having a knee that feels unstable is alarming.
Many runners with severe anterior knee pain (PFPS) will no longer be able to run, especially downhill. Running downhill is more stressful on our joints than running uphill. Our heart might ache running uphill… but the front of the knee is under a tremendous amount of stress running downhill. As we will cover, committing to a long term strengthening program is critical for most runners.
Is the sound that my knee makes bad?
As we reviewed in a popular post about the sounds that our knees make, we discussed that the majority of these sounds are not mechanical or dangerous! That means that you are probably not bone on bone or grinding away the insides of your knee when you bend it. Yes, these sounds can be annoying or even embarrassing, but they are rarely dangerous. The most common cause of this grinding sensation or sound is actually due to inflammation of the tissues inside the knee. You do not need cortisone or "lubricating" injections to treat these sounds or sensations.
Why Do I Have Pain In The Front of the Knee?
The most common cause of anterior knee pain is often felt to come from a muscular imbalance or a particular pattern of weakness. This will be the case for the majority of you reading this. At least that's what we think is the most common cause. We have come a long way in evaluating runners and other people who present with pain in the front of their knees. They often show the same findings when we use high-speed cameras to videotape them while running or walking. Now, this might be a chicken vs. the egg thing. Right? Which came first, the weakness pattern or the pain? We like to think it was the weakness that came first. We are still working on proving that.
If you are a runner or cyclist, etc then your training may influence your anterior knee pain. If you train too hard, too fast, and too often then you are at a higher risk of developing anterior knee pain. Most amateur runners run too fast on their easy days and too slow on their hard days. Proper base building, for strength, endurance and conditioning our joints to adapt to distance is of paramount importance. Zone 2 running programs are extremely important … even for elite runners. Try to keep your training at a continuously progressive pace. You should be slowly increasing the load, distance, or speed over time. Try not to increase your "load," eg. distance, speed, etc more than 10% per week. Most runners' overuse injuries are training errors.
We also know that a program geared towards correcting an abnormal pelvic tilt, or glute weakness can improve anterior knee pain. This is especially true in runners, hikers, and long walkers. We discuss these treatments in a little more detail down below. Video examples of some of the exercises you can perform can also be found at the bottom of this post.
Now, some people are found to have a mechanical or structural issue that might be contributing to their pain in the front of their knee. The following bears repeating early and often. Keep in mind what we already said.. the vast majority of you will have kneecap pain, or a runners knee because of a muscular imbalance or weakness pattern– not because of something that showed up on your MRI. Based on age at the time of presentation, and the common diagnoses we see at that age, I have broken it down into three distinct groups who suffer from pain in front of the knee.
1. Anterior knee pain causes in young athletes:
Before you read this, it is worth repeating… the majority of you will not have the issues that I outline below. The majority of you will have pain due to a gait abnormality or muscle imbalance. We all feel the need to have a specific label for why our knee hurts. Anterior knee pain due to muscle imbalance just doesn't cut if for some of you; you want something more specific. I understand that.
The point I am trying to make is, if you assign the cause of your pain to a specific structural finding or something that your MRI report mentioned, then you may have difficulty getting past that and buying into the PT or exercise strategies that have been shown to work.
Chondromalacia: Chondromalacia is likely a very early sign of arthritis. It involves the "softening" of the cartilage under your patella (kneecap). As the cartilage softens, it is thought that it irritates other tissue in the knee with certain activities. I'm not convinced that this is a common cause of anterior knee pain. Chondromalacia is very common, even in people with no pain.
We find chondromalacia in so many people at the time of surgery for other things, such as an ACL tear. And those people rarely have pain in the front of their knee. So it is not entirely clear why some people might have pain due to chondromalacia, and others do not. Surgery is rarely needed.
Physical therapy for lower leg, hip, and pelvic strengthening is often successful at limiting your discomfort. Compression sleeves might help minimize the pain too.
Plica: A plica is a normal tissue found in 25% of knees. In some patients, the plica tissue becomes thicker and irritated. This will cause pain on the inner side of the patella or kneecap. Most people with pain due to an irritated plica will notice improvement with a period of activity modification, and over the counter medications. Injections can be useful in some cases. Surgical removal of the plica is sometimes needed… but only after all other treatments fail.
Patella tendonitis: Patellar tendonitis is a common cause of pain in the front of the knee. It is a more common overuse injury in sports requiring jumping and quick sprints. Patella tendonitis is common in jumping sports participants and is often referred to as a Jumper's Knee.
The pain of patellar tendonitis is in the front of the knee just below the kneecap or patella. It is often very tender to touch. Patella tendinitis can resolve with a period of rest (if the pain is very severe), followed by physical therapy. PRP injections or surgery can be considered in rare situations if your pain does not improve with at least 4-6 months of physical therapy. Surgery is rarely needed. See this post on patella tendonitis for more information.
If you have patella instability, then your patella is not gliding in the groove in the front of the femur the way that it should. The patella can be tilted, or it could dislocate out of the groove entirely. Physical therapy can be useful for certain individuals. Patella braces usually do not work well. Other patients might eventually require a procedure to "realign" the patella, so it doesn't dislocate or pop out of its groove.
The patella fat pad– Fat Pad impingement: Some of you who have pain in the front of your knee will have inflammation of the fat pad under your patella tendon. Your MRI might have shown fat pad edema or fat pad inflammation. The radiologist may also use the term fat pad impingement. The fat pad is only starting to gain attention now. It seems that the fat pad can be a cause of anterior knee pain in a decent number of people.
We will cover the fat pad in its own standalone post within a few months. Most people with fat pad impingement will improve with a long period of observation, NSAIDs, and PT. We can try injecting the area with cortisone for persistent pain. Surgery to remove a portion of the inflamed fat pad is occasionally useful in recalcitrant cases that do not respond to activity modification, anti-inflammatories, injections, and PT. On occasion, a more complex surgery known as a tibial tubercle osteotomy can be useful in treating difficult cases of fat pad impingement.
2. Runner's Knee: PFPS
Runner's Knee or Patella Femoral Pain Syndrome (PFPS) – Many runners will develop pain in the front of the knee (PFPS). This is usually referred to as a "runner's knee." See this post for common causes of knee pain in runners.
A hallmark of the runner's knee is that we often find nothing structurally wrong on the exam or an MRI. Contrary to popular opinion, pain in the front of the knee from running is not usually due to arthritis or a plica. Softening of your cartilage, or chondromalacia is also not necessarily a common cause of anterior knee pain. Why is that? "How can this hurt so much, and my imaging studies are normal ??"
Being treated for anterior knee pain as a runner can be very frustrating. The pain is very real- no one will deny you that. The issue I am trying to convey is simply that the cause of your pain cannot often be easily labeled on an X-ray or MRI. Bone scans are also rarely effective at revealing why we have pain in the front of the knee.
We will cover coping strategies for anterior knee pain in a moment… but it should be clear that surgery is rarely indicated, and it has been shown in many studies that a structured exercise program is equally effective when compared to surgery.
Many runners will present with an MRI which shows a meniscus tear – but we know that a meniscus tear is NOT the cause of pain in the front of your knee. So don't have that knee arthroscopy. Most of those meniscus tears in runners can safely be ignored. We now believe that hip/core weakness, leading to excess inward rotation of the femur (see image below), is potentially a common cause of PFPS.
If you look at the diagram below, it shows how your pelvis and hip strength contribute to your kneecap (patella) position, which could cause anterior knee pain. Furthermore, surgery is seldom indicated for a runner with pain in the front of their knee. Physical therapy, which focuses on hip strengthening, core strengthening, and stability, can alleviate PFPS symptoms in most runners. Most runners with pain in the front of the knee do not need to stop running if their pain is minimal. As I mention just below, there are some changes that you can adopt to lessen the pain you experience.
Coping strategies for runners with anterior knee pain:
A shorter stride: a shorter stride allows you to control your pelvic drop better.
A higher cadence (number of steps per minute): This also minimizes your pelvic drop and other gait abnormalities.
Avoiding hilly terrain until the pain has lessened.
Progressive, intelligent training. Consider using apps such as HRV4Training, Training Peaks or TrainAsOne.
Patella taping: See the video at the end of this post.
Orthotics or shoe inserts: These have been shown to work in some of you.
Prevention: Keep your glutes/ hip abductors / core strong. See the exercise videos at the end of this post.
3. Anterior knee pain in middle-age and beyond:
Osteoarthritis (OA): Arthritis of the patella causes pain because the cartilage under the kneecap is thinning. Arthritis, which only involves the patella in your knee, is more common in women. Physical therapy can be very effective in the early stages of osteoarthritis of the patella. Injections and over the counter medications may have a role in some patients. In some situations, when the arthritis is severe, a patient will need to consider a tibial tubercle (Fulkerson) osteotomy, replacement of the patella, or a total knee replacement if the arthritis is elsewhere within the knee.
How Do You Treat Anterior Knee Pain?
Pain in the front of the knee is usually treated successfully without surgery. This may take some time. It is not unusual for the pain to last for many months. Many of you will respond to physical therapy, which should focus on your hips, yes, your hips and pelvic muscles as much as it focuses on your thigh muscles. Runners who focus on a strengthening program might– repeat — might have a lower incidence of anterior knee pain.
When will my kneecap start to feel better?
One broad caveat to keep in the back of your mind. Many of you are thinking that a few weeks are enough time to start to see improvements with treatments such as exercise or physical therapy. Sadly that's not going to happen. It is not unusual for it to take 3-4 months before you start to see significant improvement in your pain. Furthermore, it is not uncommon for it to take 8-12 months for a complete resolution of your symptoms. This is important — I wouldn't want to seek a surgeon's consultation because 4-6 weeks of therapy and exercise left you with persistent pain.
Down below.. under coping strategies, we list a few things to try that can calm down your pain while we give the exercise time to work.
There is no easy surgical solution for anterior knee pain.
The mere fact that there are likely to be ten or more described surgical techniques to try and treat pain in the front of your knee should give you pause. That usually means that none have been very successful, so we keep trying new ones. Surgery for anterior knee pain has not been proven to be more effective than a proper exercise program.
Drilling:
Some procedures have drilled holes into the patella, thinking that excess pressure may have been the cause of pain. Did it work for some people? Maybe… but with that pesky placebo thing, we always hear about, we don't know because this procedure was never tested against control or sham. Besides… having holes drilled through your patella might cause it to break if you fall on it or if you are hit in front of your knee.
Burning:
One prolific Spanish author wrote about burning the tissues around the patella. We call that a denervation procedure. That's because when you heat the tissues, you will fry the nerves to that region. The thought behind this procedure was that the patella is fed by nerves that could easily be burned using an arthroscopic approach. This procedure was also never evaluated against a control group or a sham group- so we just don't know if it works.
Cutting:
Surgeons have been performing a procedure called a lateral release for decades. It has long been felt that a tight tissue on the outer side of your knee may be responsible for causing pain in the front of your knee. For a while, it seemed like everyone was offering this procedure to most patients with anterior knee pain or a runner's knee. We have learned a lot over the last few decades. We can safely say that there is very little role for an arthroscopic lateral release as an isolated procedure in the management of anterior knee pain.
Moving:
Far too many of you are told that your patella doesn't track well. What your doc or PT is referring to is that the kneecap sits in a groove on the front of your thigh bone or femur. That groove is called the trochlea. The patella should theoretically sit perfectly in the center of that groove — but there is a ton of normal variability that exists. Do real cases of patella maltracking occur? Sure, however, it's not nearly as common as many believe it is. And once you're told that your kneecap doesn't track well… it's hard to get that thought out of your head. Words harm.
To improve your patella tracking, we can cut small pieces of bone around the knee and move them around. We call this procedure a tibial tubercle osteotomy. Don't get me wrong, this procedure has a huge role in managing people with a kneecap that dislocates– but the role of an osteotomy in managing straightforward anterior knee pain is much more limited.
Non-surgical suggestions for alleviating pain in the front of your knee.
Many people with anterior knee pain get some relief with the following coping strategies :
Taping has been shown to be effective at minimizing pain in the front of your knee. See the video below on how to tape the knee for a runner's knee or painful kneecap.
Insoles or foot orthotics. No, don't spend $1000 on orthotics from a podiatrist, consider the OTC brands. If they do work, feel free to continue them on a short term (6 weeks) basis.
Physical therapy is effective in managing the pain brought on by most causes of anterior knee pain. Your PT will focus on your hip muscles and strong thigh muscles.
Some of the exercises we use include: Wall sits, Squats, lunges, knee extension, bridge (single leg) and so on. Many of these exercises can be adapted or changed to accommodate a knee that is very painful. This is also a situation where patella taping and orthotics might be useful to calm the knee down and allow you to start an exercise program.
Is surgery ever needed for anterior knee pain?
In some cases of patella instability, where the kneecap dislocates often we need to consider surgery to reconstruct the ligament which holds the patella in place.
In cases of severe arthritis of the patella, we occasionally need to consider a joint replacement if you do not respond to a compression sleeve, injections, activity modification, and physical therapy.
Patella tendonitis or a jumper's knee will usually respond to activity modification and physical therapy. It is not unusual for your recovery to take up to 6-8 months. If the pain remains severe, there has been a recent interest in trying PRP injections to "regenerate" the patella tendon. It is still controversial whether or not PRP injections are useful. Surgery, although rarely needed, can be very useful in severe cases of a jumper's knee.
Exercise program for pain in the front of your knee (runners knee):
Many of you are afraid to exercise. Yes, some of you may have pain with a few of these exercises. You can start with quadriceps isometric exercises, or simply don't go too low with the squat, lunge or wall sit until your strength improves. Most of you will find that after doing these exercises 3 days/week for two weeks that your pain will start to improve. As I mentioned previously, this is a program that can take 6-12 months to fully correct the weakness pattern that led to pain in the front of your knee. So stick with it.
Squat: I like the variations that this group throws in. You do not and should not start with 100 if you are just starting out.
Chair Squats are the place to start if you don't have the strength or confidence.
Wall Sits: A great quadriceps exercise. This video is a little mechanical, but it contains the dos and don'ts of how to perform a wall sit.
Reverse Lunges: Easier than forward lunges. Don't lunge back further than you can handle. That distance will get further over time. Focus on your front knee so it doesn't wobble back and forth.
Planks: This video includes a good description of the proper technique, and it gives you 10 different variations to try.
Hamstring bridge exercise. If this is too easy you can rest a barbell across your pelvis, or a kettlebell on your lower abdomen.