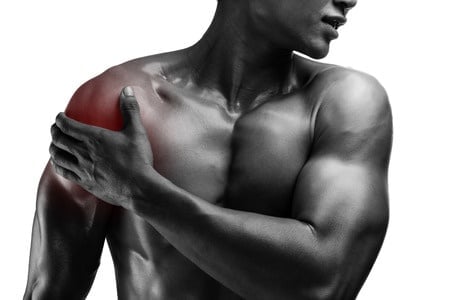 Massive rotator cuff tears cause significant pain and disability. Patients with massive rotator cuff tears will notice pain, weakness and loss of motion.  Once you have torn a significant portion of your rotator cuff the shoulder will not function properly.  Not only will you develop weakness and pain but the pain at night can become unbearable.
What can be done to treat your shoulder to minimize the pain due to massive rotator cuff tears?
The rotator cuff are a series of 4 muscles around the shoulder.  They are beneath the larger deltoid muscle.  The rotator cuff coordinates the motion and play a critical role in maintaining function of the shoulder.  If the rotator cuff is torn, depending on the size of the tear, you may notice a loss of strength and significant pain with use and at rest.
What is a massive rotator cuff tear?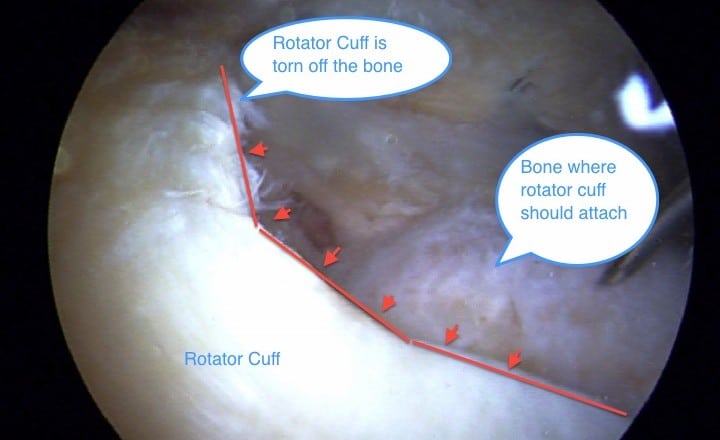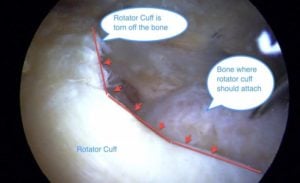 A massive rotator cuff tear implies that at least 2 of the 4 rotator cuff muscles are torn and no longer attached to your upper arm or humerus.
Massive rotator cuff tears can occur due to a traumatic injury or fall.  Massive tears can also occur slowly over time due to degeneration or aging and wear of the rotator cuff.  The cause of the tear will usually guide your treatment plan or options available.
Surgery is usually recommended to treat massive tears following an injury such as a severe fall.  However, if you have a massive tear that occurred slowly over time and your tear is "retracted" and the muscle has significant "atrophy" then surgery might not be your best initial treatment option.  In those situations where the muscle is atrophied (smaller) and retracted (pulled far away from its normal attachment to the bone) we will usually recommend physical therapy as the initial treatment option.
If physical therapy is unsuccessful at managing the pain and disability brought on by a massive rotator cuff tear then surgery becomes an option. Often times with these massive rotator cuff tears which are old, long standing, atrophied and retracted a repair might not be possible. In those situations we need to have other options available to improve the likelihood of achieving reasonable pain relief and return of function.
What if My First Rotator Cuff Repair Didn't Heal?
The failure rate following treatment of a massive rotator cuff tear can be rather high.  To a large degree that depends on how old the tear was and it also depends on the quality of your tendons at the time of repair.  Poor tissue and bone quality typically leads to poor results from a rotator cuff repair.
In a situation where your first surgery failed, an attempt to repair the tendon a second time will almost certainly fail again.  This is another situation where we consider alternative proceudres to attempt to improve the chance of success and improve the chance that your pain and function will improve.
What is a Superior Capsular Reconstruction?
A superior capsular reconstruction is a procedure where we place a graft (cadaver tissue) between the two bones of the shoulder in order to stabilize the shoulder and enable the remaining intact muscles to function better.  By improving their function, you should notice an improvement in your pain and your function.  The early results of this procedure appear to be promising.  Time will ultimately tell if this is a good answer to the very complex problem that is a massive rotator cuff tear.
Below is a video of a superior capsular reconstruction from Arthrex. No.. :-) I do not work for them.