When you tear your anterior cruciate ligament or ACL your knee swells with blood.  When the knee swells, that triggers a cascade of events which causes you to loose quadriceps strength.  In addition you will notice that your thigh looks a lot smaller than the other one.  That is due to atrophy of the quadriceps which occurs after an ACL injury.
In addition to the loss of quadriceps strength and atrophy which accompanies an ACL tear you will also notice loss of motion and in most cases a fair amount of pain.
Many athletes choose to have ACL surgery to improve their chance of returning to the pitch or ball field.  The sad reality is that many athletes can not return to sports after ACL surgery.  The reasons for this vary.  As such, there is a lot of research taking place to improve your chance for a successful return to sports after an ACL reconstruction.
Prehabilitation Before ACL Surgery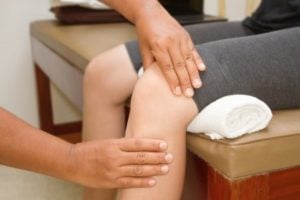 Orthopedic surgeons for years have been placing patients into physical therapy to improve their motion, minimize their pain and start to improve their quadriceps strength before ACL surgery.  Until recently we didn't have proof that this made much of a difference in your final result after  your ACL reconstruction.  In addition, we did not know if specific neuromuscular training before surgery would also be of benefit.
The MOON group recently published a paper addressing whether or not rehabilitation before ACL surgery or prehab would improve your overall result.  Not surprisingly, the study showed that patients who underwent physical therapy before surgery achieved certain milestones more rapidly after surgery.  This paper also hints that the benefit is likely related to the addition of neuromuscular training to the prehab protocol.
For the athlete, the research showed that there was better function and a higher return to sports rate when the athlete had therapy before ACL surgery.
The return to sports rate after ACL surgery is currently lower than we would like.  With the knowledge that physical therapy or prehab before ACL surgery improves functional outcomes and facilitates a higher return to sports rate I would hope that the insurance companies will stand up and take notice.
We have addressed the topic of prehab before ACL surgery previously on this blog…. to learn more click here and here.
If you have recently suffered an ACL injury and are considering prehab or physical therapy before surgery, it looks like the science strongly suggests that this is a good idea.